Bamboo Utensil Set with Straw & Napkin in Pencil Case
$25.00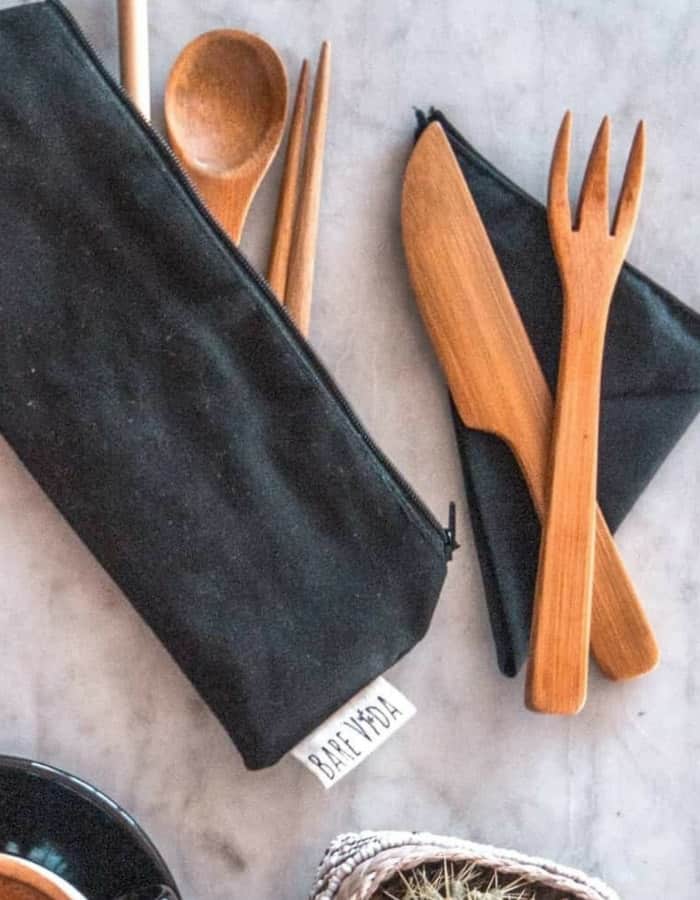 Do you want to reduce your waste while you have lunch-on-the-go, picnics or even a quick lunch at your desk? Having a convenient lunch which is also eco friendly can sometimes be hard when plastic utensils are the only option.
Now you can go plastic-free with our reusable bamboo utensil set. 
Each set contains:
Knife
Fork
Spoon
Pair of chopsticks
Straw
Napkin
...All in an organic cotton black or black/yellow batik zipped carry case.
There is even a little bit of extra space, so you can pack a mini salt, pepper, soy sauce or whatever else you fancy in there!
Made from 100% organic bamboo from Bali, that's sourced in Jati Luwih and handcrafted in Ubud.
This means everything is made ethically and we can support local Bali communities.
With over 4 years of experience, our lovely & super talented Balinese producers have refined the designs, selected the best bamboo, and chosen the perfect top coating. This ensures your cutlery is as strong as possible and does not break easily.
We drown our bamboo in a river for a month, then dry in the sun, and finish with certified food grade varnish to seal, protect and beautify. We recommend hand washing to treat your utensils with love & care, and they should last for up to 3 years.
We offer a full money back guarantee if you're not totally satisfied with your purchase, and a one year warranty. If anything happens to your cutlery, just drop us an email and we'll send you a replacement.